"We believe in people reaching their highest potential because of their supportive environment."

At KBR Solutions, we partner with clients to help overcome their biggest challenges, drastically improve performance, and achieve success. We are passionate about delivering an exceptional design and installation experience. When you hire us, you are hiring a team of professionals who are highly-skilled to deliver lasting value to your business.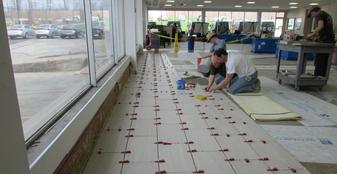 From the initial design process to installation completion, we work with you to get your project done in a timely and cost-effective manner. You can rely on our professional team to make recommendations that fit your taste and style. Team KBR Solutions is committed to providing you with the highest level of service.
Sue Fox, Design Coordinator, will work with you on every aspect of your project. From initial consultation to concept drawing to handling the last item, Sue will be there. Each and every one of our construction projects are carefully and professional designed to meet your business or family's needs.
In addition to assistance with choosing the perfect office furniture for your business needs, the perfect furniture for your home, we also provide the newest select of floor coverings.
Larry Fox, Project Manager, will make sure your project is completed in a timely and professional manner. With the highest quality and as little interruption in your business or home, Larry makes your design come to life.
They've got the tools, skills, and desire to help you with project's needs. Each member works tirelessly to serve our common purpose, which is to provide an exceptional project experience with honesty, integrity, quality, and open communication. We genuinely care about your project as well as your experience. And it shows in the standard of our work..
Get in touch with us for all remodeling services.